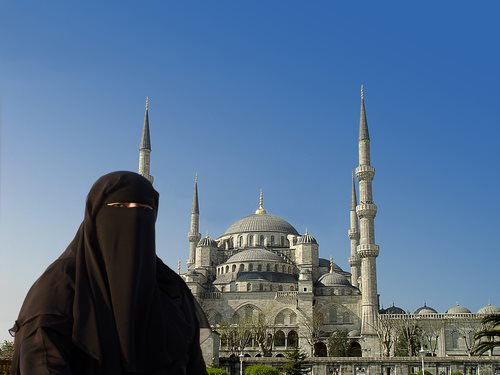 The precarious status of women in Iran has taken another step backwards with the passage of a new law in Iranian Parliament. According to the text of the new law, which was passed by Iran's 290 seat Parliament this week, women under the age of 40 will be required to obtain permission from their father or other male guardian before being permitted to obtain a passport or travel outside the country.
Prior to the passage of the new law by parliament, the nation required all people under 18 to receive permission from their father or other male guardian at the time of obtaining a passport. Women who had attained the age of majority were required to obtain permission from their husbands if they were married, but single women over 18 did not have any requirements that limited their ability to obtain a passport. Now, even single women would be required to have parental permission to travel—Iranian women already required permission to marry, regardless of their age.
Iranian women's rights activists are furious over the move, which they say is another in a series of escalating political backlashes to women trying to assert their rights in the Islamic republic. They note that Iran's government still allows girls to marry at age 13, and will even allow this age to drop lower if they believe that Islamic law allows it in a particular circumstance.
The rights of women in Iran have varied substantially over the nation's history. Historically, while Persia (the older name for Iran) was a male-dominated society, it allowed a substantial amount of room for women's contributions. Mid-20th century reforms made it so women were permitted to receive an education and even become part of government.
However, when the current Islamic Republic of Iran government started after the 1979 Iranian Revolution, that government immediately ordered a number of traditionalist reforms that restricted the freedoms of women. For example, while many Iranian women had chosen to go about their day in public before the revolution without a hijab, or headscarf, new rules required headscarves to be worn at all times when women were in public.
Some positive reforms for women have stuck in the Islamic Republic of Iran, including the high rates of education for women and girls. However, a recent change to the educational laws of Iran also means that there will be fewer college age women attending school there. Government forces recently moved to restrict women from studying any course of study that was deemed too masculine, including everything from engineering to foreign languages.
Critics of Iran's new policies say that they are transparent attempts to try to reverse the progress that Iranian women have made over the last decade in overturning oppressive laws and making steps toward equality. Protests are expected in the capital of Tehran over the new travel restrictions for single women, as well as over other recent policy changes that have affected women negatively.
Sources: awid.org, state.gov
Comments
comments