Indian Supreme Court Takes Steps To Stop Street Harassment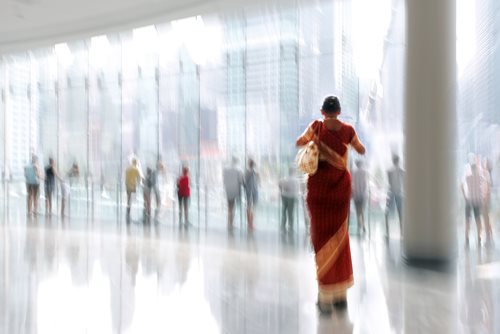 Sexual harassment on India's streets, a practice commonly known there as "eve teasing," is a problem that must be alleviated within three months, according to directives given by the Indian Supreme Court this week. The Supreme Court has directed each of the states in India to develop policies to prevent this kind of sexual harassment on their streets.
Some of the remedies that the high court proposed included cameras placed in public areas where sexual harassment or even sexual violence are most common. Helplines to be dialed by victims of unwanted male attention could also be useful to help catch men who are harassing women. "Eve teasing" can take several forms in India, ranging from verbal bullying to catcalls or even flashing of the genitals or groping.
Another strategy recommended by the Indian Supreme Court is to have female police officers in plain clothes watching areas where harassment is likely. By having women officers present and able to arrest men who engage in harassing behavior toward them, the harassing behavior would likely stop in that location very quickly.
Surveys in India have consistently shown that sexual harassment is not regarded as a problem by a large number of boys and men. While men have said that women are simply being "teased," women have reported significant psychological problems as a result of repeated street harassment and eve teasing.
The 26 page Indian Supreme Court judgment also warns of disatrous consequences including suicide for girls who are relentlessly teased. According to them, even being on public transit can be "a horrendous and painful ordeal."
Private organizations and smaller public departments were also called upon to watch for incidents of harassment and take steps to prevent them from recurring. For example, because many incidents of eve teasing occur on India's many overcrowded buses and other public transit options, the court says that transit operators should be required to file a police complaint when a woman complains about sexual harassment. Failure to comply would automatically result in a cancellation of permits, meaning that the bus would not be able to continue operating.
The Court noted that the Indian Constitution assures all of its citizens the "right to live with dignity and honour." According to the judges, three different articles of the Indian Constitution have been violated because of the states' repeated unwillingness to tackle the problem of ongoing and pervasive sexual harassment in public places.
Sources: timesofindia.com, supremecourtofindia.nic.in, in.com
Comments
comments